✰
Bianca
✰
Janeane
✰
ELLE KENNEY & SARINA BOWEN - HIM
• m/m Hockey Romance


• release date: 28 July 2015
• 217 pages

They don
'
t play for the same team. Or do they?


Jamie Canning has never been able to figure out how he lost his closest friend. Four years ago, his tattooed, wise-cracking, rule-breaking roommate cut him off without an explanation. So what if things got a little weird on the last night of hockey camp the summer they were eighteen? It was just a little drunken foolishness. Nobody died.

Ryan Wesley
'
s biggest regret is coaxing his very straight friend into a bet that pushed the boundaries of their relationship. Now, with their college teams set to face off at the national championship, he
'
ll finally get a chance to apologize. But all it takes is one look at his longtime crush, and the ache is stronger than ever.

Jamie has waited a long time for answers, but walks away with only more questions—can one night of sex ruin a friendship? If not, how about six more weeks of it? When Wesley turns up to coach alongside Jamie for one more hot summer at camp, Jamie has a few things to discover about his old friend...and a big one to learn about himself.



Warning: contains sexual situations, skinnydipping, shenanigans in an SUV and proof that coming out to your family on social media is a dicey proposition.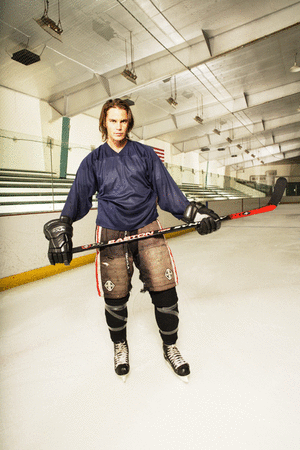 Wes and Jamie are both 22 year-old college Hockey stars.
Wes plays on the east coast and Jamie on the west coast.
They used to be best friends.
Six years through high and junior high they would meet every summer for six weeks - at a hockey camp in Lake Placid - New York.
But something happened when they were 18. Something that stopped their friendship.
Isn't there an old saying that goes something like that:
It all started with this blowjob - that I gave my best - straight - friend???
☺☺☺
Back then Wes had been in love with Jamie - he wasn't yet 100 percent sure if he was really gay himself, but he knew that Jamie wasn't gay.

And with this stupid dare on their last day of camp - he destroyed everything.

But now - four years later - their teams play in the same tournament in Boston.
And Wes realizes that he still has feelings for the beautiful california boy.
Jamie realizes that he missed Wes - but what happened back then probably destroyed whatever friendship they had.... or didn't it??

Time to go back to camp and find out ☺☺☺

WHAT WiLL HAPPEN TO WES & JAMiE????
WiLL THE TWO OF THEM GET THEiR HEA?
___________________________________________________
Is there anything better than a sexy m/m sports romance???
Especially because in real life all those poor gay sports guys are not really allowed to come out to the world!!!
I LOVED EVERY SECOND OF THIS BOOK!!!!
Both Wes and Jamie are soooo cute and hot and adorable and funny and sexy and talented and hot and ugh - perfect! You just want them to get to it already - they're so perfect for each other ☺
And we have lots of SEXY & funny times in Lake Placid...
But it's just for the summer, right? Jamie is not really gay or bi and Wes can't have a boyfriend when he's a first year NHL player.
I really enjoyed the story - lots of sexy and funny and cute moments and moving!!!
HIM - was an amazingly erotic and adorable m/m Hockey romance ...
You can't help but fall in love with Wes & Jamie ☺
_________________________________________________
ARC received for an honest review
Hockey players? ☑
Best friends reconnecting? ☑
Those best friends being hot for each other? ☑ ☑ ☑
I love hockey, and I love m/m romance books. So when the two collide...
I adored Wes and Jamie's story. They are sweet and cute, and funny. But there is that underlying sexual current between them that just made me want to strip them naked and grab the popcorn and 3D glasses so I could sit and watch it all play out.

I love a friends-turned-lovers story, and to date, I have not found many m/m ones to read (there are probably plenty of them out there, but I haven't read them) , so it is always an extra treat when one comes across my kindle.
I think I liked their playful side the best. Yes, they are hot, they are sexy, they are hard for each other, but the fun and games, the bets, the joke presents - that is something you can only get with someone you truly know and care for.
My heart hurt as Wes and Jamie struggled with what the were feeling for each other, but then it soared as the story progressed.
I have to admit, I have not read any of Sarina Bowen's work to date (which I will have to rectify!) I have read Elle Kennedy's The Deal and The Mistake - and love every freaking word! I really enjoyed this collaboration, and I will definitely be reading more of both authors - writing together or separately.
↓
LINKS TO THE BOOK AND AUTHOR
↓